now...before you get all verklempt on me, it was a simple ass explosion and nobody got hurt. Well, it hurt
ME
but nobody else got hurt see? I'm trying to appear selfless here so cut me some slack. Plus my ass is killing me so I'm not in the best of moods.
Nonetheless...when I wasn't playing anal-eclipse with the toilet water, I was watching teevee. And let me tell you other working-type folks something: teevee land is crazy cool during the day yo! I learned some awesome shit, got entertained and by the end of the day was damn near feeling like a super model. By comparison of course. I watched a show about dwarfs, one about giants (not jolly green ones or even the ones that play professional sports. No I'm talking about the real live ones with gene anomalies, really deep voices and enormous pants and whatnot) and then there were people who had lived through shark attacks and like falling down a mountain on their FACE and still looked pretty (which, if you ask me, is the reason science is so damn important...keep us pretty no matter what hair-brained idea causes us to lob off portions of our anatomy). Humans are so damned awesome!
So get this. One of these shows I watched was called
I Am My Own Goddamned Twin
(sic). And with a teaser like this...how could I NOT watch.
Babies are being born split right down the middle, half black and half white, a testicle on one side and a vagina on the other. Explore the extraordinary medical phenomena that causes two different babies to fuse together in the womb.
DUDE!!! Okay, honestly, how could I
NOT watch
? I challenge you to hold up under such a temptation. Not only would you fold, I'm betting you'd pop a king-sized bowl of Xtreme Butter popcorn and even Tivo that shit! Be that as it may, I'm pleased to report there were pictures involved.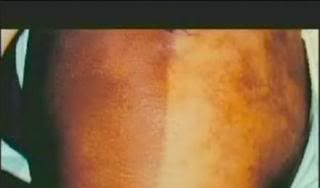 DUDE!!!
I am not making this up...that's a real live baby type thing from Texas (why do they always get the cool stuff?). I think it's right side was a boy and it's left side was a girl. They chose to keep the boy parts and had the girl parts removed. So he/she has like only one ball or something I don't know. I was just looking at it's stripes and feeling cheated. How will my kids possibly compete later in life with these sorts of super kids? Part male, part female....able to be sensitive to your needs while at the same time ignoring them completely...irrationally rational...emotionally unemotional...both a good
and
bad driver! It'll be chaos! Not to mention...if Men Are From Mars and Women Are From Venus then where the fuck would these folks be from? And more importantly, do they plan on making sex slaves out of us? So many questions.
I think the most confusing yet awesome part of the whole show wasn't the half-n-half chimera baby, but the people who showed no outward signs of the same gene anomaly that caused this baby's appearance but were nonetheless affected. It was basically about these two normal looking women, one older and in need of a kidney transplant and one younger and in danger of getting her kids taken away by child welfare. In both cases the women were told by doctors that the children they carried for 9 months, gave birth to and raised were not theirs. In effect...there's no way you gave birth to these kids...you're a liar. I of course immediately thought of
Karla
, how could I not? These women had pictures, had husbands and family members who witnessed the births and helped in the upbringing. The older woman's grown kids were tested to see if they were a match for a kidney transplant and was told not only were they not a match but they weren't even related! The younger woman was trying to get welfare and child support and was told that while the man they'd tested for paternity was 99.9% the father of her two kids...she was not the mother. They took her to court and nearly took her kids away because they thought she had either stolen them or was pretending to raise them in order to defraud the system.
Can you imagine having to prove you didn't make up giving birth? You have doctor's records, pictures and eye-witness testimony but what can't be explained and is most heavily weighing against you is DNA. How do you prove that when science has created a system by which we trust it without question? People have died because of DNA evidence and conversely others have been given a second (third? eighth?) chance. As a society are we ready to admit that it's flawed?
Long story short...both women are chimeras meaning that at some point during the first moments after conception, when the fertilized egg was just beginning it's cellular division, what was by nature meant to be two separate individuals was instead fused creating one person with two sets of DNA. The shitter about this is that it's not as easy as drawing blood, taking a mouth swab, pulling a piece of hair to determine what's what. In both of these women's individual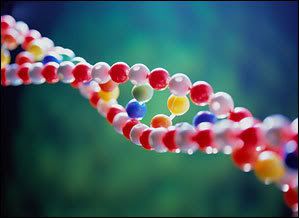 hairs tested for separate and distinct DNA. And in the older woman in need of a kidney transplant, her individual organs tested for different DNA. So think about it....if they hadn't needed the benefits of testing they showed no outward signs of being any different than normal single DNA folks. They never would've known.
We
never would've known. I mean, it's easy to see something different when it's evidenced by a line drawn down the middle of a baby.
I guess this is so damned interesting to me because I love it when nature kicks our asses. Every time we decide that we've figured it all out, something happens to show us we aren't any closer to the answers than we were back when bleeding someone was considered an effective cure for everything from headaches to adultery. Each time scientist say "okay today, right now...this is how life works" nature says "oh really?" and we're forced to reevaluate. I love that shit!
Just think about what this means....a chimera results from two fertilized eggs fusing at just the right time. The same can be said for Siamese twins and those people who get tumors removed only to find they had been their undeveloped twin. If you look at how many cases exist and are being discovered and discussed on an annual basis...is it too much of a stretch to believe that more people might potentially exist who have yet to have any reason to doubt their DNA? Look at how many people live in our prison system right now, today. Millions upon millions. Could 3 or 5 have this problem? Could they be where they are because of this condition? And what about all of those let go? Could they be guilty?
More importantly...
Karla
, if you're reading this....you better hire an attorney to come to the birth or something. Better yet, find a judge and shoot the kid out on his desk or something and get the little bugger notarized!